bookin' through the bible 2
[Back to bookin' through the bible 1]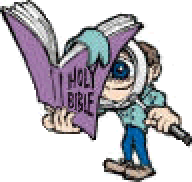 Before we begin, let's select our study materials. You will need:
1. A Bible OR a link to the text online. We'll be referring to the NRSV.
2. A concise online commentary from the believers' perspective. I recommend this one.
3. A concise online commentary from the critical perspective. I recommend this one.
4. The brilliant and fun OT commentary David Plotz did for Slate: Blogging through the Bible.
1. Pick a Bible
Naive skeptics and believers alike might think this doesn't much matter, but it does. Rather than waste word count explaining why, I'll demonstrate it. When Pilate asked Jesus if he was the Son of God, in Matthew 26:64:
Jesus saith unto him, Thou hast said. (King James version, 1611)
Jesus saith to him, Thou hast said. (Young's literal translation 1898)
"That is what you say!" Jesus answered. (Contemporary English version, 1995)
Jesus said to him, "You have said so." (English Standard Version, 2001)
This lawyerly, even Clintonesque non-answer has long been a source of discomfort in Christian circles. Why didn't he just say YOU'RE DAMN RIGHT I AM! instead of the 1st-century equivalent of I'm rubber, you're glue? Solution for some denominations? Stick your hand up his robe and MAKE him say what you need him to say. Here's Matthew 26:64 in three other editions:
Jesus said to him, "What you said is true." (New Life Version, 1969)
Jesus said to him, "It is as you said." (New King James, 1982)
Jesus answered him, "Yes, I am." (Worldwide English version, 1996)
My suggestion, and the suggestion of many others, is to go with King James. It predates the modern revisionist trend and is the most beautiful English translation by a mile. the New Revised Standard Version (NRSV).
2. The Approach
Keep your approach as unmediated as possible. That said, the insights of others who've spent serious time with this book can be very helpful indeed. That said, you want to balance your input between believers and skeptics.
So for our little study time together, I'll recommend the following:
Read the assigned book for the week (e.g. Genesis) without commentary.
THEN read the Introduction for that chapter from the New International Version (NIV) Study Bible, available online (or the believerly source of your choice).
THEN read the relevant section in the Skeptic's Annotated Bible, a tremendous online resource that provides the text of the Bible with running marginalia calling attention to the good, the bad, and the ugly.
THEN, for the Old Testament, read the relevant section of David Plotz' Blogging through the Bible.
I'll provide these links in each post.
3. The Selections
Yes yes, the best thing to do is to read the entire Bible. There, I said it, and I suppose it's true, and others are doing that as we speak. Having done it myself, I can assure you that by reading a balanced selection of complete books from the Bible, you can get an excellent idea of what all the fuss, positive and negative, is about.
I've selected books in much the way you'd select a grade school basketball team, allowing the Christian and Skeptic captains to choose books alternately. I started by scanning Christian Bible study websites to see which books they are excited about. Unsurprisingly, the four Gospels at the center of things, followed by the Epistles of Paul, followed by Acts and Hebrews.
Skeptics, on the other hand, want you to read the Pentateuch (Genesis through Deuteronomy), followed by Judges, followed by a New Testament mix-and-match.
Here are four ways to slice it:
PLAN A (The Toe-Dip)
Busy as hell? Just read Genesis and Luke. Total commitment: 5 hours.
PLAN B (The Scriptural Sponge-Bath)
For a good scriptural flyover, read Genesis, Exodus, and Leviticus from the OT, and Luke, Acts, and Revelation from the NT. Total commitment: 12 hours.
PLAN C (To the Waist, with Water Wings)
This is our baby. Genesis; 1 Corinthians; Mark, Matthew, Luke, John (the approximate order written); Exodus, Leviticus, Deuteronomy; Ecclesiastes and (just for fun) Song of Songs; Acts; Revelation. Total commitment: 25 hours.
PLAN D (Full Immersion)
The whole megillah. Total commitment: 80-90 hours.
We'll be following Plan C. I'll be giving very minimal commentary, mainly pointing you to others who've already done that work. Remember that the goal is literacy and clear-eyed knowledge of this influential book, both for ourselves and for our kids. Here's an approximate blog schedule in 11 installments. These will be interwoven with posts on unrelated topics. Drift in and out as you like:
Dec 3 — Genesis
Dec 10 — 1 Corinthians
Dec 17 — Mark
Dec 24 — Matthew and Luke
Dec 29 — John
Jan 8 — Exodus
Jan 15 — Leviticus
Jan 22 — Deuteronomy
Jan 29 — Ecclesiastes and Song of Songs
Feb 5 — Acts
Feb 12 — Revelation
So start by reading the intro to David Plotz' Blogging through the Bible — but don't read his Genesis post yet! — then go y'all forth now and read Genesis! Here are your links:
Book of Genesis online
Believers on Genesis
Skeptics on Genesis
Plotz on Genesis