FIRST CORINTHIANS (bookin' through the bible 4)
[back to GENESIS]
[onward to MARK]
FIRST CORINTHIANS
You may recall that the design of this mini-course is based on the GSBTS principle (Grade School Basketball Team Selection). Last week was skeptic's choice (Genesis), so this week we fly over the intertestamental abyss, alight at the dawn of Christianity, and let the Christian captain choose a book.
Well, the Christian captain (in the form of several moderate Christian bible study sites) wanted to start with Matthew, but the ref blew the whistle. You have to begin with a Pauline epistle since they were written over a generation before the Gospels. Otherwise you get the idea that the Gospel stories were written, then Paul spread them. The Christians' second choice is First Corinthians, after which we'll visit the Gospels.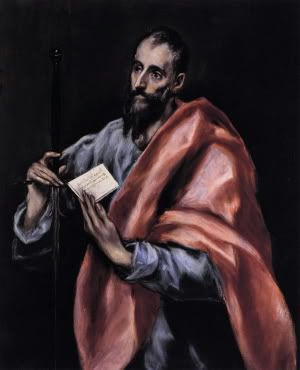 THE APOSTLE PAUL MAILS HIS FIRST LETTER
TO THE CORINTHIANS—El Greco (1606)
Paul is a sure candidate for Most Influential Human of All Time. Inventing Christianity from near-scratch is a résumé-brightener if ever there was. But if we want some understanding of First Corinthians and the other Pauline epistles, there are two things we need to know:
1. That Paul wrote them a full generation before the gospels or any other surviving accounts of the life of Christ were written, and
2. That he believed the world was going to end and Jesus return within the lifetime of those then living.
We tend to read Paul through the lens of the gospels. When he says "the Christ," we picture mangers, shepherds, loaves and fishes, last suppers, Mel Gibson's oceans of stage blood—and we think Paul's picturing those things, too. He isn't, any more than P.L. Travers, in writing Mary Poppins, imagined her singing "A Spoonful of Sugar."
"We need to embrace the fact that none of Paul's first readers read him [as we do]," wrote Bishop John Shelby Spong in Rescuing the Bible from Fundamentalism, "for in their lives there were as yet no Gospels. To interpret Paul accurately, we need to put ourselves into that first-century pre-gospel frame of reference and to hear Paul in fresh and authentic ways."
We do this lensing all the time. When Jefferson invokes a Creator endowing us with inalienable rights, we read through the lenses of subsequent history and think Why, he's talking about the God of Pat Robertson. It would have been clear to his contemporaries that he was talking about a non-biblical god who made things, endowed rights, then turned to other projects unknown, leaving no forwarding address.
After his conversion, Paul traveled throughout the Mediterranean world, helping the fledgling church to establish itself. At one point he spent some time with the church in Corinth, not far from Athens.
Corinth was a decent-sized city of around 130,000 at the time of his visit, a place of proverbial wickedness, energy, riches, noise, home to the primary temple of the love goddess Aphrodite, which boasted 1,000 ritual prostitutes. It was the Sin City of its time. The verb "to Corinth" (Korinthiazesthai) in popular Greek meant to fornicate, as in Voulez-vous Korinthiazesthai avec moi?
Paul was in Ephesus when he heard the Corinthian church he'd just left was embroiled in a sex scandal. One of the members had had an affair with his stepmother, and the church was ready to fracture. Hence the letter's emphasis on sexual morality. His overall purpose in writing was to set them back on the rails so they could be saved upon Christ's imminent return.
The frantic belief that the jig was nearly up explains much of Paul's advice to the church in Corinth. Brothers, the time is short. Those who have wives should live as if they had none. Those who don't should not get married. This world is about to pass away (7:29 etc).
But then, weirdly, there's a lot of long-term planning interwoven, including an exhaustive list of restrictions on women and rules for establishing a church hierarchy. Here's A.N. Wilson's take on that contradiction:
There are many reasons to suppose that the letters in which these [long-range plans] occur belong to a later period than Paul's… The world which these letters reflect is not the one seen through Paul's frantic eyes, a world about to dissolve, as Christ appears in glory above the clouds. On the contrary, the later New Testament writings seem to have settled down to the discovery that Christ will not be returning quite as soon as the Apostle predicted. They set up a 'Church,' with fixed officers (elders, deacons, bishops) and lay down the rules for a dull and virtuous life in which women know their place. To such a world, surely, belongs the sentence in 1 Corinthians in which we read that 'women should be silent in the churches.' In short, the sentence is an interpolation. (from Paul: The Mind of the Apostle)
Interpolation was the official pastime of the early Christian church. Paul's letters passed under the editorial quills of the antisexual, body-hating, self-flagellating Church Fathers—men rooted in the dismal Greek Stoic conception that matter itself is evil and only spirit is good—in an early medieval game of Telephone.
But in addition to the misogyny and apocalyptic yearnings, First Corinthians has some really wonderful passages, mostly in Chapter 13. "When I was a child I talked like a child, I thought like a child, I reasoned like a child. When I became a man, I put childish things behind me" is one such. Another is this exquisite passage, which served as a reading in my wedding and millions of others:
If I speak in the tongues of men and of angels, but have not love, I am only a resounding gong or a clanging cymbal.

If I have the gift of prophecy and can fathom all mysteries and all knowledge, and if I have a faith that can move mountains, but have not love, I am nothing.

If I give all I possess to the poor and surrender my body to the flames, but have not love, I gain nothing.

Love is patient, love is kind. It does not envy, it does not boast, it is not proud. It is not rude, it is not self-seeking, it is not easily angered, it keeps no record of wrongs.

Love does not delight in evil but rejoices with the truth. It always protects, always trusts, always hopes, always perseveres. Love never fails.
That the biblical passage most often heard just before husband and wife say "I do" is from a letter in which marriage is discouraged and women are told to stay silent in church—well, what's more delicious than the ridiculous and sublime, locked in a scriptural embrace?
Paul's true genius, according to Wilson, was mythologizing the death of one Jewish teacher to fulfill the prophetic claims of that religion, giving it new energy and relevance. He took the potential energy of the Old Testament and unleashed it by "making" it come true. In so doing, he used an insular, inwardly-turned religion to birth a universally available, all-forgiving creed and conquered death in the bargain.
No wonder the damn thing caught on.

(GAME: "Find the Bad Apostrophe in the Tattoo")
_________________________
POSTSCRIPT
Further reading
AN Wilson, Paul: The Mind of the Apostle
John Shelby Spong, Jesus for the Non-Religious
Thirsty for more mail from the first century's favorite epileptic?
If First Corinthians has somehow whet your appetite for Paul, read Romans next. Paul's Second Letter to the Corinthians, like most sequels, can't hold a candle to the first one; he mostly asks the Corinthians why they never answered his first letter and whether it means they've been seeing other apostles behind his back.
See you on December 17 for THE GOSPEL OF MARK:
Mark online
Believers on Mark
Skeptics on Mark