our man in washington: aai 2007
(Being the second in a series of reports on the 2007 convention of the Atheist Alliance International in Washington DC.)
The AAI Convention was such a surreal mix of the ridiculous and the truly sublime that all I can muster is breathless telegraphy in the style of Guinness. The book, not the beer. (And damn Hemant Mehta to HELL for posting his (much more entertaining) breathless telegraphy before I got around to posting mine. He's young and childless.)
MOST COURAGEOUS MOMENT
Sam Harris telling a room full of atheists not only to stop calling themselves atheists, but to entirely abandon the concept. Long, good story.

MOST NOT UNDISAPPOINTING MOMENT
Richard Dawkins using most of his speech to debunk the many ways in which he is misrepresented. I'm sure the temptation to clear the air is strong, but (a) he was speaking to the crowd least likely to need convincing, and (b) I want to hear his ideas. This week's ideas. Perhaps that is just too outrageously what-have-you-done-for-me-lately of me. Yes, now that I think of it, it is. I'm just glad I didn't type it out loud, then.

BEST DIRECT CONTACT WITH GREATNESS
A nice, long chat with Dr. Eugenie Scott of the National Center for Science Education — see Monday's post.

BEST MEDIATED CONTACT WITH GREATNESS
Shaking hands with Matthew Chapman, great-great-grandson of Charles Darwin, and thereby squeezing Darwin's own DNA.

MOST IMPRESSIVE ACT OF SELF-CONTROL
Resisting the urge to incorporate Darwin's DNA eucharistically into my own flesh by licking Chapman's hand-sweat off my palm. As far as you know.

TOP NIGHTMARE OF CONVENTION
Inadequate facilities. 500 registered, 600 turned away, main ballroom holds only 300. Long story, and, of course, no one's fault.

MOST INSANELY ARTICULATE NATIVE SPEAKER OF ENGLISH
Sam Harris

MOST INSANELY ARTICULATE SPEAKER OF ENGLISH AS A THIRD LANGUAGE
Ayaan Hirsi Ali

PEOPLE I WANTED TO THROTTLE
Wouldn't you like to know.

PEOPLE I ACTUALLY THROTTLED
Let's give the statute of limitations some time to work its magic. Then we'll talk.

MARVELOUS NEW FRIEND AT CONVENTION
Nica Lalli, author of Nothing: Something to Believe In.

MARVELOUS OLD FRIEND AT CONVENTION
Tanqueray and tonic.

PROOF THAT I AM TOO STUPID TO BLOG
I didn't bring a camera.

PROOF THAT I AM TOO STUPID TO LIVE
Despite the presence, for probably the only time ever, of eleven of the contributors to Parenting Beyond Belief within an area the size of a baseball diamond, I acquired precisely ZERO author signatures in copies of the book. I just don't think that way. Until afterward.

MOST PLEASANT SURPRISE
Positive media coverage at the national level (click on video screen to right of article.)
---
PROFUNDITY
(All quotes were transcribed on the fly onto the backs of business cards and napkins
and are therefore unimpeachably accurate.)

CHRISTOPHER HITCHENS
[Speaking out against dangerous ignorance] is not my living, it's my life. I've no right to betray it. This [religious claim to immunity from challenge] has got to stop. I'm not sure we have very much time.
*
There is only one cure for poverty, and that is the liberation of women. It always works.
*
I don't wish for God, no. Not remotely. I don't want to live under an unalterable dictatorship of any kind.

AYAAN HIRSI ALI
Let [Muslims] proselytize what they believe and I will proselytize what I believe, and let's see where we end up. That's so much better than the powerlessness of being a women within that system.

MATTHEW CHAPMAN
For a feminist to still believe in God is like a freed slave continuing to live on a plantation.
*
I think we should advocate for a presidential debate based solely on the subject of science. It's become essential.

SAM HARRIS
To begin, I'd like to take a moment to acknowledge just how strange it is that a meeting like this is even necessary. The year is 2007, and we have all taken time out of our busy lives, and many of us have traveled considerable distance, so that we can strategize about how best to live in a world in which most people believe in an imaginary God.
*
It just so happens that religion has more than its fair share of bad ideas. And it remains the only system of thought, where the process of maintaining bad ideas in perpetual immunity from criticism is considered a sacred act. This is the act of faith. And I remain convinced that religious faith is one of the most perverse misuses of intelligence we have ever devised.
(Read Harris' entire speech here.)
---
HILARITY
MATTHEW CHAPMAN
[on the kind of movie script Hollywood is perpetually in search of:] Horny teen confronts demons, and finally, through faith and violence, returns to being a decent, Christian virgin.
*
I deeply resent standing in security lanes at the airport. I advocate a fast-track lane at airport security for atheists. Whoever heard of an atheist suicide bomber? They should set up a plinth at the start of the line with a wide variety of religious texts. Anyone willing to desecrate the whole lot of them gets breezed right through. "Right this way, my dear atheist! No need to take your shoes off."
*
If an old lady who opposed contraception while working in the slums of Calcutta can become a saint, I figure I ought to be considered just for doing nothing.
the guilty pleasure that is
CHRISTOPHER HITCHENS
I tried, while in prep school, to imagine existence in Heaven, which is described as engagement in focused and eternal praise of the Creator. Only slightly less appealing to me are the flames of hell. And both are eternal, with no hope of respite, ever. Now life in North Korea is something close to hell on Earth. According to their constitution, Kim Il-sung, who is dead, is the eternal president. So it is a necrocracy, a thanatocracy. And the people live without much hope of self-expression or joy. But they have one advanatage over the Christian scheme: at least they get to f**king die!
*
[on Mother Teresa] This charlatan, this fraud, this shriveled old bat, as far from the true badge of 'motherhood' as it is possible to get…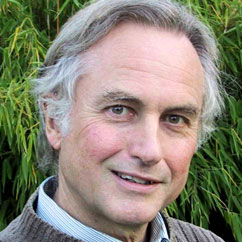 RICHARD DAWKINS
[Regarding the caption of a photo from The Guardian of three children in a Nativity play] They are referred to as "Mandeep, a Sikh child; Aakifah, a Muslim child; and Sarah, a Christian child" — and no one bats an eye. Just imagine if the caption had read "Mandeep, a Monetarist; Aakifah, a Keynesian; and Sarah, a Marxist." Ridiculous! Yet not one bit less ridiculous than the other.
(For even more details on the AAI convention, including the full text of all speeches, travel back in time and attend.)