The Joy of Giving Up / cyhmn? 8
I started this series-about-Facebook-within-a-series-about-communication by describing an exchange with two normal, non-crazy, hearable and listenable religious friends. I wanted to show (1) that most religious people are, in fact, normal, non-crazy, hearable and listenable, (2) that it's best to assume someone is all those things until proven otherwise, and (3) that time spent communicating thoughtfully with such friends is time well spent.
On the other hand, I do know many people of religious and nonreligious persuasions for whom no amount of care or thoughtful message crafting justifies the time spent at the potter's wheel. This post is about giving one's self permission to recognize pointlessness and walk away, with a smile, before throwing good time and effort after bad.
A recent exchange on Facebook with an old friend — I'll call him Aaron — illustrates the point.
Though I came to discover a huge gulf between our worldviews since last we met (during the Carter Administration), I doubt very much that Aaron is crazy. I might very well enjoy time in his company as I once did. He has a perfect right to his opinions and to the expression of same. It's true that I wish fewer people believed as Aaron apparently does. But I think engaging Aaron on religious and related questions offers only an amazing facsimile of actual accomplishment, and that the invested time and energy would be better spent on other things. Like cleaning my gutters.
My exchange with Aaron began when I posted this in my Facebook status:
Congratulations Greg Epstein on the release of "Good Without God: What A Billion Nonreligious People DO Believe." Sure to be a fine contribution.
Aaron replied
Mr. Epstein is a "Humanist Rabbi". Isn't that a little like being an Amish auto-mechanic, lol?
I remember having exactly the same blinkered reaction the first time I heard about Humanistic Judaism ten years ago. Why fault Aaron for being where I once was? So I started with a little empathy, then gave a context for reconsidering:
Hi Aaron! Takes a bit of getting used to, doesn't it? But 40,000 Secular Humanistic Jews (among others) have understood and embraced it for two generations. Anyone interested in these questions beyond the LOL should read Greg's book to see how people without theistic beliefs satisfy the same human needs that have traditionally been addressed by religion.
Aaron saw an opening:
Very respectfully Dale, a casual look at the mess-of-a-world around us, in the news, and on talk shows is ample indication of how people have sought satisfaction and fulfillment apart from accountability to the Bible. I think it was Napolean who said, "People will believe anything as long as it isn't in the Bible".
At this point I have some choices. Do I challenge his assertion that the world is a mess? Do I challenge the idea that a drift from Biblical accountability is responsible for what mess there is? Do I point out that the Bible has inspired its fair share of the mess? Correct his spelling of Napoleon? Tell him the quote is actually, "People will believe anything as long as you whisper it to them" and was only changed later, and that it was more likely said by trial lawyer Louis Nizer before being reverse-engineered to Napoleon and readapted to the Bible? Do I point out that the whole tired "mess-of-a-world" trope is refuted by the fact that crime across the board is at the lowest level in modern history?
To answer these, answer this: What result am I after?
Ten years ago I would have started with, "Oh Aaron, Aaron. Where do I even begin?"—then gone after every single one of those points in as superior a voice as possible. In the end, I'd imagine him lying in a pool of cyber-blood.
But most of us eventually notice that winning an argument requires that the vanquished recognize his defeat. Sure enough, time after time, I would be amazed and incensed when the other person — apparently unaware of his demise — came back with more nonsense.
I came to realize that these exchanges accomplish precisely nothing but lost time and gained blood pressure. He comes back, I reply, again and again. We consult our mutually-exclusive rulebooks to see who's winning. And oh how the pretty painted ponies go round and round.
I want those hours back.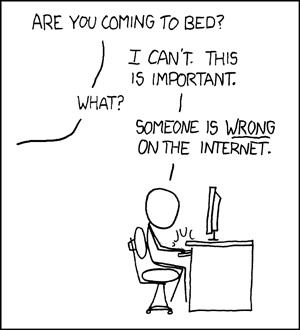 Worse yet, if there's an audience, such as Facebook friends, a poorly-toned or twelve-point reply can look to the non-choir like so much intellectual bullying. It's just too much to process as anything else.
One option, rarely taken, is to not reply at all. But but but I have the perfect argument, we say. It's ever so compelling and irrefutable. Go shout your brilliance into a bucket. Better yet, go find Bob and Andrea. If you proceed thoughtfully, it's possible to bring a conversation with those two (and most of their fellow reasonables) to an actual conclusion. I may be wrong, but I suspect there is neither end nor purpose to continuing with Aaron. That's no cause for rudeness or personal disrespect — just an invitation to be done.
So what did I do? I continued anyway. As it happened, I had a minute. My gutters were already clean, and I like to test my own hypotheses about these exchanges. But I continued without illusions. I didn't unleash a deafening point-by-point but chose a third option: the (potentially) hearable reply.
The hearable reply includes two elements: at least one point of agreement, and ONLY ONE solid, well-supported point of difference:
I share your concern about the mess-of-a-world, Aaron, in a big way. So does Greg. But I think the "casual glance" at causation is precisely what leads us off the mark. Some of the mess is certainly fueled by non-Biblical causes; another large percentage specifically stems from biblical or other religious inspiration. (I'll assume you don't need a list.) The best things we can do is get all of us who are concerned with making the world a better place working together instead of drawing lines that divide us.
Another friend forced my hand on a second point, noting that the world in many ways is not more of a mess than before. I agreed with her and offered a link from the US Dept of Justice showing that violent crime is actually at the lowest rate ever.
Aaron was in for a pound:
Terrorism was not in our thoughts a generation ago. Concern for our security and identity, and the measures we need to take to safeguard them, has increased. Carjacking. Pornography. Sex trade. Human and child trafficking. Slave trade. School dropouts. Teen pregnancy. Single-parent households….Increase of welfare as a lifestyle. As the Bible predicted, men will call what is bad as good, and call what is good as bad… I'm reading a terrif book called "The Truth War" by John MacArthur. In his first chapter on Post-Modernism…
At this point I have plenty of evidence that there's not much to be gained by continuing. He is so deeply siloed that he is unlikely to be able to hear it. More importantly, there's something to be lost if I look like a bully. I reposted the link he had ignored, mostly so others could see it, and let those who wished to do so fence on.
I used to walk away from these threads only after countless hours of escalating aggravation. Then I began to experience the joy of giving up — the liberating feeling of walking out of pointless exchanges early, with a friendly tip of my hat, my pockets brimming with unexpended arguments and witty retorts, to spend my time and energy hearing others and being heard by them. I don't always manage it, but when I do, I'm damn proud of my great big grownup self.
Interesting coda: One of those who continued in discourse with Aaron, gently challenging him for another few rounds, was a friend of mine who I know to be actively religious. If I had bullied Aaron, or appeared to do so, it's likely that Joseph never would have joined in. By taking a bit of care, I had made it possible for a religious moderate to find more common cause with me than with Aaron. I'll call that a positive result.
(Comic by the matchless xkcd, through which all life stands explained. Hat tip to blotzphoto!)
[The complete Can You Hear Me Now? series]