Any kid knows there's only one way to view evil:

Notice the difference between the Venetian blinds, above, and the blackout curtains, below:

The second girl is playing hide-and-seek. The first one is looking at something forbidden — or maybe playing hide-and-seek the way I always did.
I always admired Lot's wife for peeking. Turning her into a condiment seems harsh, even for Jehovah. Two cities were being destroyed by God's own napalm, including her own home town, and she was curious. We're all rubberneckers when it comes to evil -– repelled and fascinated at the same time. We cover our eyes, then splay those fingers for a goggling glimpse. We're curious, and there's nothing wrong with that.
The classic Disney films look darkness smack in the eye. Even when the medium is a cartoon, classic Disney evil is rarely cartoonish. Bambi's mother is shot to death, and we watch the dawning realization in Bambi's eyes as he treads back out into the snow to find her: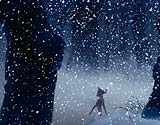 Snow White is poisoned. Cruella de Vil wants to make puppies into a coat, for chrissakes. This is genuine evil.
And I think it's good –- even important -– for kids to see this stuff. They grow tremendously by engaging fictional evil. You can practically see it happening, see them grappling with and recoiling from –- and goggling fascinatedly at -– that evil. Just imagine Harry Potter without Voldemort. (Actually you don't have to imagine it. Just check out one of the worst kids' movies ever made, here.)
It can't be a coincidence that two of the pivotal moments in the ethical development of my own kids were Disney moments. Connor developed into an instant Manichaean watching 101 Dalmatians at the age of three –- the Glenn Close version -– and discovering, through splayed fingers, that evil exists.
For the following year, Connor announced 15 to 20 plans per day for "getting bad guys." "If a bad guy came, I would run between his legs and get away." "If a bad guy came, I would run so fast into him that he would smack down." My favorite: "I'm gonna start keeping my feet pointing two different ways when I walk, so if a bad guy comes, he won't know which way I'm gonna run." For half a day, he walked around the house like Charlie Chaplin. That one film seared the problem of evil into his consciousness like nothing before or since.
Disney introduced Erin ("the B") to evil as well, and at the same age – but her reaction was decidedly different. Her epiphany came as Snow White entered the deep, dark forest, fleeing the wicked Queen. The Queen had certainly gotten her attention, but Erin's eyes didn't pop – and I mean POP — until Snow White fled into the storm-whipped forest.
"Daddy, LOOK!!"
"Oooh, yeah, look at that." The whipping branches of the trees had transformed into gnarled hands, which were reaching ever closer to Snow White as she cowered and ran down the forest path. I looked over at Erin, whose dinnerplate eyes were glued to the screen.
"What ARE those?!" she asked, breathlessly.
"Looks like some kind of evil hands, B."
"Daddy," she said in an intense hush, "…I want to BE those evil hands!"
'
'
'
'
'


'
'
'
'
'
I peeled myself off the ceiling, frantically waved down a passing trucker, and made a new life for myself in an undisclosed location.
In fact, the evil hands episode was the visible birth of one of the central threads of Erin's personality: a fascinated obsession with good and evil, right and wrong. Erin is the one to notice, aloud, when we drift 3 or 4 miles above the speed limit. Or 20. Three minutes after condemning a passing smoker, she will furtively take a drag on a straw or pencil in the backseat, then recoil in giggly horror. When I was her age, I was taken with the polarity of true and false. But for Erin, it's the polarity of right and wrong that holds the greatest fascination.
About a year ago, she went through a brief period of self-recrimination, literally dissolving into tears at bedtime, but uncharacteristically unwilling to discuss it. The morning after one such nighttime session, we were lying on the trampoline together, looking at the sky, and I asked if she would tell me what was troubling her. "Did you do something you feel bad about, or hurt somebody's feelings at school?" I asked. "There's always a way to fix that, you know."
"No," she said. "It isn't something I did."
"Something somebody else did? Did somebody hurt your feelings?"
"No." A long silence. I watched the clouds for awhile, knowing it would come.
At last she spoke. "It isn't anything I did. It's something…I thought."
I turned to look at her. She was crying again.
"Something you thought? What is it, B?"
"I don't want to say."
"That's OK, you don't have to say. But what's the problem with thinking this thing?"
"It's more than one thing." She looked at me with a worried forehead. "It's bad thoughts. I think about saying things or doing things that are bad. Like…"
I waited.
"Like bad words. That's one thing."
"You want to say bad words?"
"NO!!" she said, horrified. "I don't at ALL!! But I can't get my brain to stop thinking about this word I heard somebody say at school. It's a really nasty word and I don't like it. But it keeps popping into my brain, no matter what I do, and it makes me feel really, really bad!!"
She cried harder, and I hugged her. "Listen to me, B. You are never bad just for thinking about something. Never."
"What? But…If it's bad to say a bad word, then it's bad to think it!"
"But how can you decide whether it's bad if you don't even let yourself think it?"
She stopped crying in a single wet inhale, and furrowed her brow. "Then…It's OK to think bad things?"
"Yes. It is. It's fine. Erin, you can't stop your brain from thinking – especially a huge brain like yours. And you'll make yourself crazy if you even try."
"That's what I'm doing! I'm making myself crazy!"
"Well don't. Listen to me now." We went forehead to forehead. "It is never bad to think something. You have permission to think about everything in the world. What comes after thinking is deciding whether to keep that thought or to throw it away. That's called your judgment. A lot of times it's wrong to act on certain thoughts, but it is never, ever wrong to let yourself think them." I pointed to her head. "That's your courtroom in there, and you're the judge."
The next morning she woke up excitedly and gave me a high-speed hug. Once she had permission to think the bad word, she said, it just went away. She was genuinely relieved.
Imagine if instead I had saddled her with traditional ideas of mind-policing, the insane practice of paralyzing guilt for what you cannot control – your very thoughts. Instead, I taught her what freethought really means.
I'm more than a little proud of myself for managing to say the right thing. That's always a minor miracle. I don't blog about the three hundred or so times in-between that I say the wrong thing.
In the year since that day, Erin has several times mentioned that moment, sitting on the trampoline, as the single best thing I ever did for her. As with most such moments, I had no idea at the time that I was giving her anything beyond the moment itself. I just wanted her to stop crying, to stop beating up on herself. But in the process, it seems, I genuinely set her free.